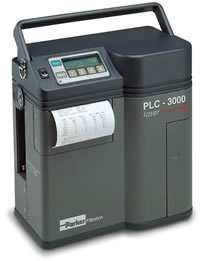 Why on site Fluid Condition Monitoring?
Certification for fluid cleanliness
Early warning instrument to help prevent catastrophic failure in critical systems
Immediate results with laboratory accuracy
To comply with customer cleanliness requirements and specification
New Equipment warranty compliance
New oil cleanliness testing
There is a new addition to the proven range – the LCM "Classic", only available from Parker, the "Classic" retains all the technology that made the LaserCM one of the most accurate, reliable and popular portable counters available.
Pressure Transducers
To overcome the historical problems caused by "gauge creep" of thick film sensors and the fragility of peizo-electric/ceramic based sensors, the new 'Performer' range uses a high grade stainless steel element, which is coated with layers of both insulative and alloy materials. These are trimmed to a very close tolerance using state of the art, semiconductor grade, laser and ion beam methods. This extremely accurate 'front end' is then coupled with application specific integrated circuitry to produce a sensor that is both accurate and repeatable over a wide, fully compensated, temperature range, -40°C to +125°C. the "Performer" is now available in a variety of thread-form and connector options.
Flowmeters & Transmitters
LoFlow-Oil and water Flowmeters have been designed for those industries where the need exists for a low cost solution to small measurements of flow with an accurate reading. LoFlow uses the well tried and tested principle of variable area flow measurement using the movement of a ball or float inside a calibrated bore.
Typical Applications:
Pharmaceutical industry
Filtration systems
Hospital equipment
For water applications
Water treatment
Photography and X-ray
Equipment
Swimming pools
The Dataflow Compact Transmitter was designed to offer OEM's and end users alike a means of monitoring low flow on liquids with an electronic output signal – but at LOW COST.
Fluid passes through the one piece sensor body impacting on the twin vaned turbine rotor, causing it to rotate at a speed proportional to the flow rate. The opposing photo-transistors are mounted either side of the rotor and externally of the clear sensor body, these generate a continuous signal. As the rotor spins, each blade obscures the infra red signal. This is then converted into an industry standard pulse output signal – compatible with inexpensive display units for flow rate, totalising, batch control and large, ventral control systems.
Rotec offer quality design, build, installation and maintenance of hydraulic, pneumatic and electronic components and systems in the aerospace, agriculture, industrial, marine, transport and utilities sectors throughout the UK and internationally.Head office: +44 (0)1823 348900