Brands
We distribute and supply components and products from a wide selection of respected brands at competitive prices.
Supplying Products from Leading Brands
Parker Hannifin is a Fortune 250 global leader in motion and control technologies.
Parker products include a full range of hydraulic vane pumps, piston pumps and hydraulic motors. In addition to this are a full range of Parker Racor filtration solutions, accumulators, hose, couplings and fittings.
Parker also offer a range of Internet of Things (IoT) products to enable customers to remotely monitor systems and equipment. Parker's PTS labels are a great solution for streamlined asset management.
Founded in 1955, Galtech is a leading and respected brand.
Products include:
Gear pumps, including cast iron gear pumps

Gear motors
Monoblock valves
Sectional valves
We offer the range of Galtech alloy gear pumps which are available in 34 displacements, divided into 4 groups. All units are suitable for build into multiple pumps. 
IVG Colbachini Spa is a world leader in the manufacturing of low and medium pressure industrial rubber hose for different applications.
IVG manufactures a huge variety of hoses, suitable for any type of fluid including powders, granules, gases and liquids. 
Hoses can reach continuous lengths of up to 120 meters and can be supplied with any type of fitting at the ends.
Leading Italian manufacturer of variable displacement vane pumps, up to 250 bar, since 1963. Berarma's hydraulics range includes:
Vane pumps: PSV low pressure, PSP medium pressure, ATEX approved pumps, PLP low pressure, PHP high pressure
Valves: NRV non-return valves and outlet manifolds
Motors integrated GMP motor-pump groups including the GMP ATEX approved motor-pump.
Universal motors boast an impressive range of motors and gear boxes including:
Three phase electric motors (cast iron and aluminium)
Single phase motors (permanent and start capacitors)
Three phase electric brake motors
Atex motors
Inverters
Worm gear (right angle or square)
Coaxial gear box (cast iron and aluminium)
Helical bevel gear box
Shaft mounted gear box
The Racor range from Parker Hannifin is recognised worldwide as a global market leader in fuel, air, and oil filtration systems.
Racor's filtration systems are designed and manufactured to provide outstanding filtration results and value.
With filtration down to 2 microns and water repellent elements, you get virtually no water or particulate entering your engine. 
Worldwide leader in the manufacture of high-pressure hydraulic components from 700 to 4000 bars.
Products include hydraulic cyclinders, pumps, valves and accessories. Euro Press Pack products are the only ones in the sector treated with the Nitreg® ONC® process as standard. This process is a thermo-chemical treatment applied to the steel, causing a change in the steel's superficial chemical structure and making the steel hard and resistant to corrosion.
Part of the Rotec Group, Ram Reman Hydraulics specialise in the design, manufacture, repair or refurbishment of hydraulic rams and hydraulic cylinders to fit any brand of machinery.
Their Wimborne Trade Counter stocks a wide range of hydraulic components, valves, seals, glands and tools.
Extensive workshops, lathes and milling machines enable the Ram Reman team to work on Hydraulic Rams and Hydraulic Cylinders, no matter what size or weight.
Heypac are renowned manufacturers of air driven pumps, hydraulic power units, pressure boosters and intensifiers offering pressures up to 840 bar (12,000psi).
Furthermore, Heypac supply of a full range of accessory products including zero leak directional control valves, pressure reducers, reservoirs, pulsation dampeners, fluid and air filters.
Daman is a specialist manufacturer of custom and standard hydraulic valve manifolds.
Daman also perform leak testing (external) and static pressure testing (internal) on manifolds that are between 200psi to 5000psi with up to 12.4 gpm flow.
Established in 1976, Pneumax is a world reknowned supplier and manufacturer of pneumatics and automation products.
The Pneumax product range of pneumatic products is extensive and spans across many industry sectors. 
The comprehensive Eaton product range includes:
Accumulators, hydraulic cylinders, electronic controls and software, filters, motors, power units, pumps, hydraulic steering, hydrostatic transmissions, hydraulic valves, industrial clutches and brakes.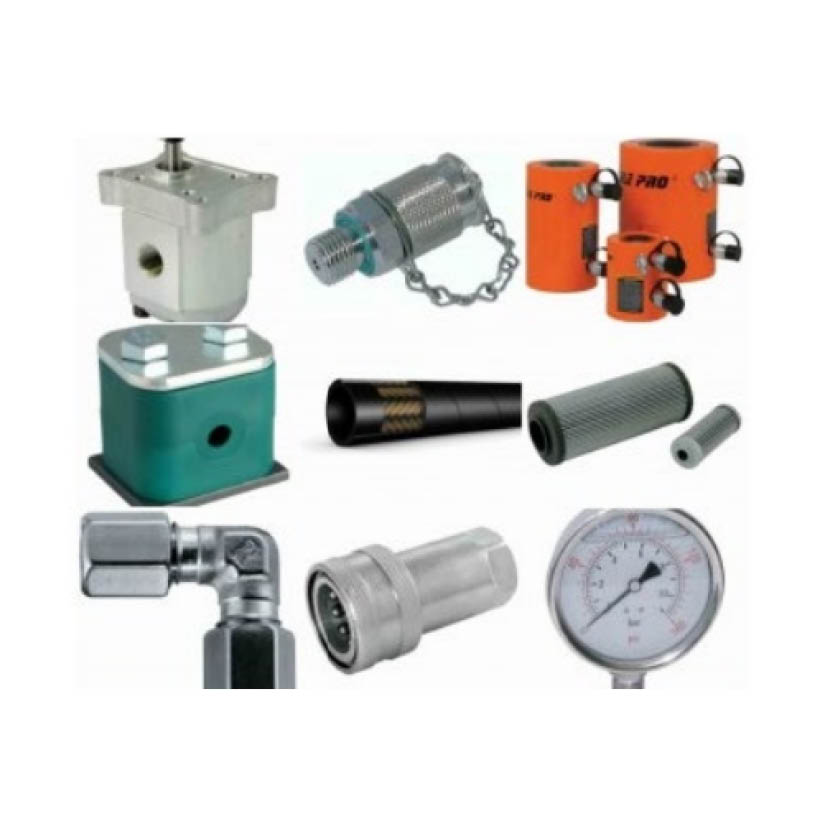 Products
We supply products from the most respected names in the industry for hydraulic, pneumatic and electronic systems; and hold large stocks of an extensive range at facilities in Stroud, Taunton and Plymouth.
Should you need assistance, our highly trained and experienced staff are always available to provide design services, advice and technical support.
Taunton (Head office)
Unit 1, Venture Way
Priorswood Industrial Estate
Taunton
Somerset
TA2 8DE