Rotec are proud of its strong links within the Aerospace sector. We have worked with industry heavyweights on numerous bespoke projects. In addition to maintenance, repair and overhaul contracts with many companies within the industry, we are a trusted distributor and supplier of components and products from leading brands.
We pride ourselves on our reputation for first class product quality and reliability. We are experienced at working with the aerospace industry to provide efficient, durable and safe systems for a variety of aircraft.  
Our capabilities include:
Ground support specialists
Design and manufacture of ground support equipment
Design and manufacture of Hydraulic Test Rigs/ Power units to support Production or Development
Custom test rigs using a range of fluids including Skydrol DT585
Bespoke flushing rigs
Hydraulic Power Unit design and build
Total system integration
Diagnostics equipment
Service and training packages available
Electronic control systems
Onsite installation and commissioning
Case Study: Bespoke Hydraulic Ring Main and Multiple Air Blast Coolers 
Rotec Hydraulics Ltd was chosen by leading aerospace and engineering business to complete a 3-phase upgrade project to its existing Structural Test Lab (STL) hydraulic ring main. The team at Rotec successfully completed the project on time and to a high level of quality.
A global leader in Aerospace, Defence and Security, our client is a key supplier of defence and security equipment to the UK MoD, employing over 7,500 highly skilled personnel across 7 main sites throughout the UK.
A crucial asset at their Somerset facility is its Structural Test Laboratory (STL), which is responsible for mechanically testing critical aircraft components to destruction. As part of an ongoing development programme, the client wanted to create a dedicated and permanent hydraulic supply to its expanding fleet of testing equipment.
Rotec Hydraulics Ltd added several significant upgrades to the current system in three stages; install 4 air blast coolers, design and install a custom sub ring main within the new Fatigue Lab and finally to design and install a major upgrade to the existing distribution ring main.
As part of the second and final phases of the project, Rotec designed and built a number of bespoke pipework brackets, stands and manifolds all of which were FEA tested by our in-house design engineers to ensure they exceed the minimum design requirements set by the customer.
More than 21.5 metres of pressure and return pipework was manufactured on site using Parker's unique High Pressure Flange system making for a very quick and efficient installation. The 80 x 10mm 6k steel pipework is capable of operating at 420 bar maximum working pressure and was connected using Rotec's in-house designed "X-Blocks" which distributed the flow to numerous outputs.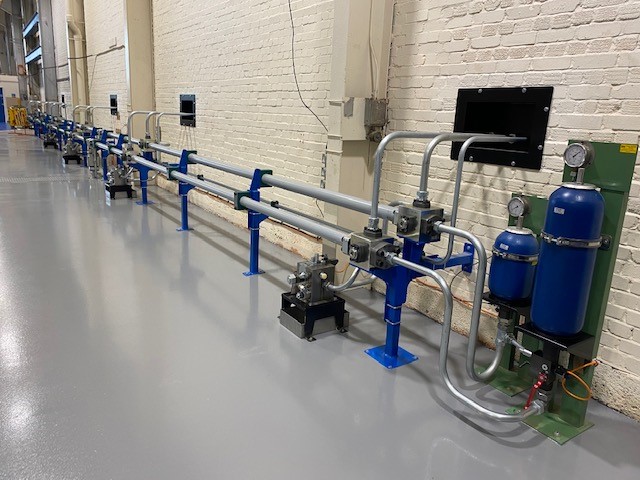 Case Study: Hydraulic Pump Room Facility and Electronic Control Package
Custom design, build and installation for respected and leading name in the Aerospace industry.
The team at Rotec Hydraulics Ltd, including design, electrical and hydraulic engineers, researched, designed and installed a custom, fully integrated hydraulic pump room facility. Additionally, our electronic engineers made, installed and commissioned an electronic control package, feeding the landing gear test area.
The project featured:
Fully integrated hydraulic pump room facility.
Electronic control package feeding the landing gear test area.
Incorporated 4 x 132Kw electric motors.
Close-coupled to Parker PV variable displacement pumps.
Controlled on demand by a Siemens PLC Control System.
Hydraulic flow capacity of up to 1000litres/min at 275 Bar.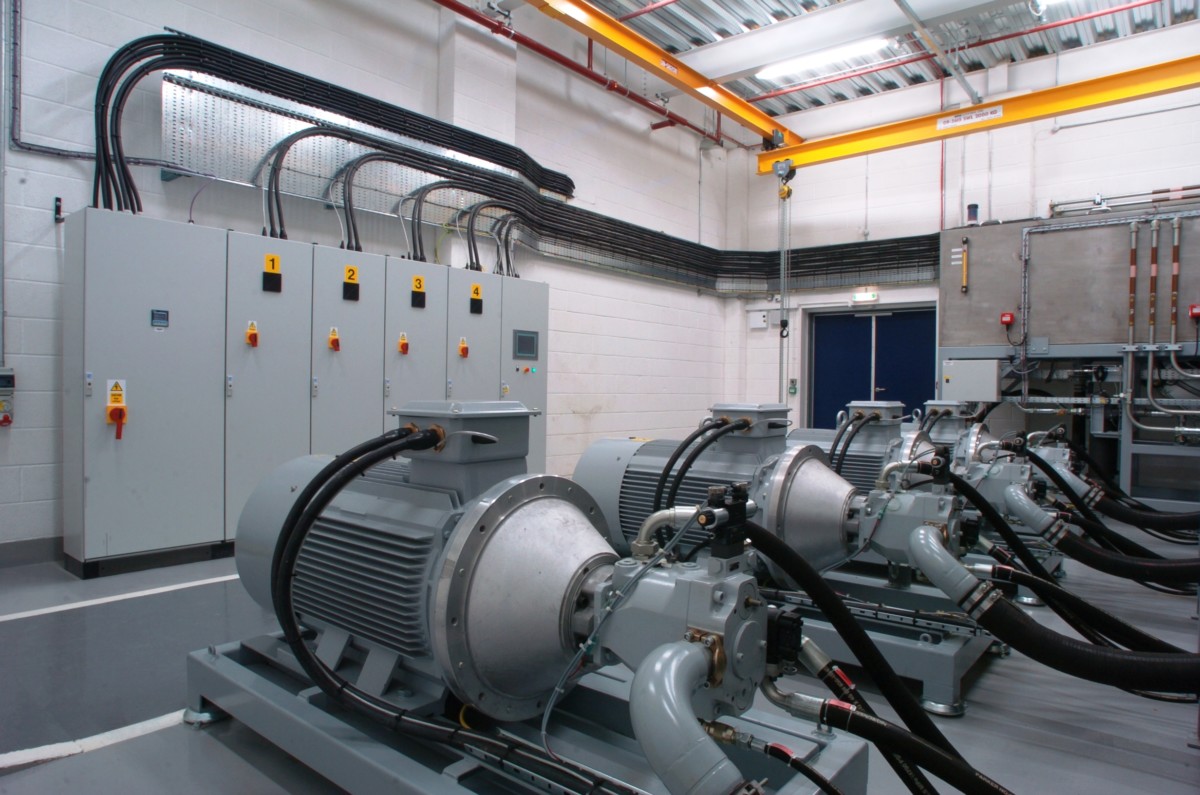 Taunton (Head office)
Unit 1, Venture Way
Priorswood Industrial Estate
Taunton
Somerset
TA2 8DE