Industrial and Manufacturing Sectors
Rotec have worked on a large variety of projects within the industrial and manufacturing sectors. We have maintenance, repair and overhaul contracts with many companies within the industry and supply components and parts from leading brands.
Rotec's specialist products and skills benefit many organisations in the industrial and manufacturing sectors with powerful, innovative solutions that are designed to offer optimum performance in demanding situations.
Whether you are a multi-national business or a sole trader, we can provide the support needed to ensure efficiency, reliability and safety for your hydraulic systems.
Our capabilities include:
Hydraulic Power Unit design and build
Total system integration
Diagnostics equipment
Service and training packages available
Electronic control systems
Onsite installation and commissioning
Case Study: Electro-Hydraulic Control System
Commissioned
to replace the hydraulic power unit and controls of a grain/feed products ship loader travelling gantry system.
Thanks to the working relationship spanning many years, Rotec were invited to quote for the replacement of the hydraulic power unit and controls of the grain/feed products ship loader travelling gantry system. 
The problem
The client was faced with reliability and obsolescence issues with the original equipment dating back to the 1980s. It is the only plant capable of this function at the port and is in use constantly.
The ship loader hydraulic functions consist of a dual pumping system and associated hydraulic equipment built into an up-cycled twenty-foot shipping container. The container sits on the machine approximately 20 metres above dock level, which presented some unique access issues.
Our solution
Based on the original system design, Rotec designed and manufactured a complete self-contained hydraulic system and associated dedicated electrical control panels which control vertical and horizontal movements of the grain conveyors and loading chute to align over the vessel's holds as required.
The container was specially modified to accept and fit the hydraulic system. This included full sound and fireproofing, internal full bunding and bespoke flooring and ventilation integration. The hydraulic system consists of a primary pump system driven by a 100KW 3300VAC electric motor and proportionally controlled variable displacement pump with a completely redundant secondary backup system in case of partial or total power loss. This 400VAC backup system is supplied from an external generator and is used to recover the chute off a vessel during a power loss when necessary. The main pump systems are supported by cooling and filtration systems and associated electrical control and monitoring equipment which in turn all interface and interlock to the main ship loader external control system.
The result
The project initially began in 2017, but project was temporarily halted by Brexit and later on, the outbreak of COVID-19. However, following a major fire one evening whilst in use on a vessel which completely destroyed the old containerised system, surrounding cabling and pipework, the project objectives and target completion date was rapidly brought forward to minimize the client's downtime.
Due to our very flexible approach and ability to respond to an everchanging priorities list, Rotec was able to pick up and resume the build process quickly and managed to complete and factory test the unit ready for site delivery and install by the end of May. Our on-site engineers in the meantime stripped out and replaced large quantities of fire damaged external fixed stainless and special alloy tubing and replaced all external flexible hoses on the machine. The container unit and system were craned into place, pipework connections completed then flushed thoroughly.
The system has now finished its commissioning and setting to work process, on time and on budget, and is ready to serve the port for this vital service for at least another 30 years minimum. The client is completely satisfied with the product and service received by him by our team of design, manufacturing, and field service personnel.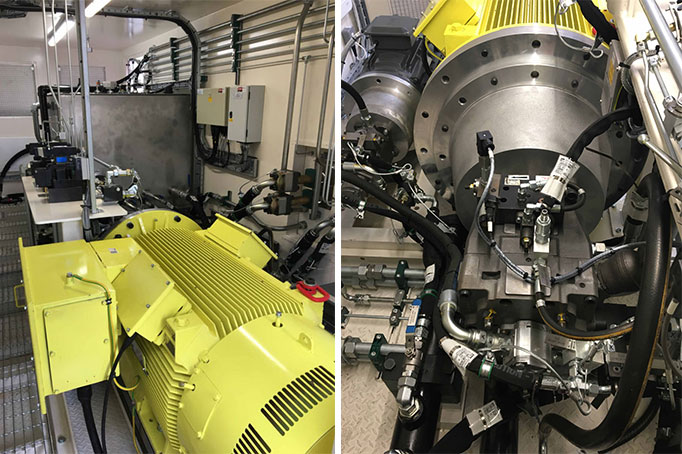 Taunton (Head office)
Unit 1, Venture Way
Priorswood Industrial Estate
Taunton
Somerset
TA2 8DE