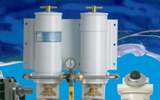 Racor Fuel Filtration
Rotec Hydraulics can increase your engine protection by up to ten times with Racor filtration and separation solutions. Browse our catalogues opposite for product details.
For further information, free design service or no obligation quote please call 01823 348 900 or email sales@rotec.net
Distribution Centre for Parker Fuel Filtration
Rotec Hydraulics is a main distributor and service centre for Parker fuel filtration. This means we are able to supply our customers with the latest products from Racor – the leading manufacturer for fuel filter water separation and innovative, effective marine filtration and separation solutions.
Racor Fuel Filtration
Racor Fuel Filtration provides the highest quality filtration for the removal of contaminated water or air from your fuel system. Solid and Semi Solid Contamination such as rust, sand, and other small particles routinely find their way into diesel fuel. Sometimes larger identifiable objects such as pebbles, leaves and paint chips are also present.
The most common culprit of plugged fuel filter elements are oxidized organic semi-solid contaminants such as gums, varnishes and carbon. To be effective, fuel filtration devices must provide adequate solid particle retention efficiencies while also maintaining large capacities for the natural organic contaminants found in diesel fuel.
Water, an Engine's Worst Enemy – water causes iron components to rust, forming loose, aggregated particles of iron oxide contributing to injector wear. At the interface of water and diesel fuel, microbiological growth rapidly occurs under ideal conditions. The microbes form a sludge that can actually hinder filter effectiveness and injector performance. Water inhaled by the injection system can displace lubrication provided by the fuel oil itself, causing galling and premature wear. Typical primary filtration devices do not have the capability to remove water, leaving the engine prey to pump and injector damage and reduced efficiency. It is therefore essential to effectively separate water from the fuel prior to the final stages of solid particulate filtration.
Rotec offer quality design, build, installation and maintenance of hydraulic, pneumatic and electronic components and systems in the aerospace, agriculture, industrial, marine, transport and utilities sectors throughout the UK and internationally.Head office: +44 (0)1823 348900