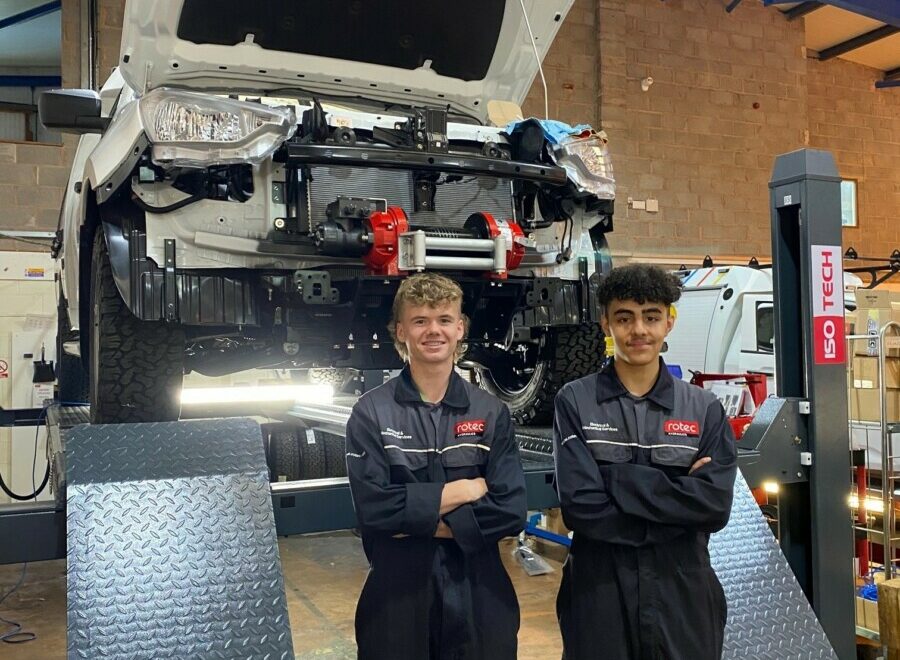 Max and Yaakoub of Taunton Academy
During June and July, Rotec Hydraulics Ltd welcomed students from Year 10 to provide them with an insight into an engineering workplace.
The students, who are pupils at The Castle School and Taunton Academy, all chose the placement at Rotec due to their interest in exploring possible careers within the engineering sector. During their week at Rotec's Taunton Service Centre and Head Office, Joshua, Raynier, Max and Yaakoub spent time in key areas of the business including Warehouse, Technical Design, Electrical and Mechanical Engineering.
Max, of Taunton Academy, is drawn to a career in engineering because of his love of 'hands-on' subjects. The highlight of his work experience was supporting Rotec's Mechanical Engineers install hydraulic winches onto the front of field vehicles for a national utility company. Max said,
"It was great to experience what it would be like to work as an engineer. My favourite part was working with Rotec's Mechanical Engineering Team on the winches. My ambition is to be an engineer in the future."
The most enjoyable part for fellow Taunton Academy student, Yaakoub was spending time with Rotec's Electrical Engineering Department. He commented,
"I wanted to do my work experience at Rotec because I want to be an Electrical Engineer when I am older. Spending time with the Electricians here was really great."
Castle School pupil, Raynier chose to carry out his work experience at an Engineering company after being inspired by his Electrical Engineer father. Raynier had a varied week and said,
"My favourite department in Rotec was definitely the Technical Team office. I liked working with the Design Engineers and learning about the different computer programmes they use."
Joshua from The Castle School has ambitions to be a pilot. However, has always been fascinated by engineering and was keen to accept Rotec's work experience placement for an insight into a real-world workshop. Joshua commented,
"Thank you to Rotec for allowing me to carry out my work experience here. I have thoroughly enjoyed this week. My best part was spending time with the Electrical Engineering Team and being shown how to build an electrical panel for the Marine industry."
Providing work experience placements and opportunities to inspire a pipeline of future engineers is a key element of Rotec's business ethos. With a national shortage of engineers within the UK, estimated to cost the economy around £1.5bn a year, Rotec hopes it can do its bit to inspire the next generation. Operations Manager, Mark Coniff said,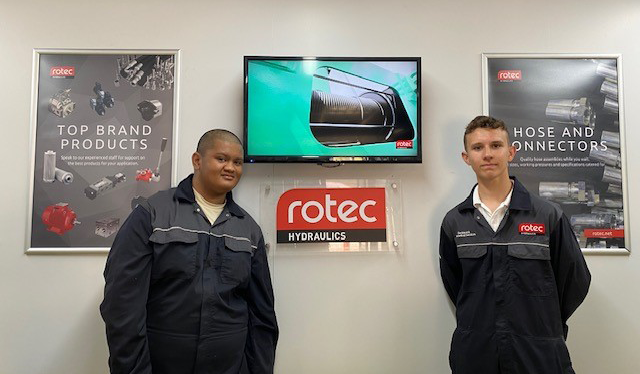 Raynier and Joshua of The Castle School
 "We were delighted to be able to welcome Joshua, Raynier, Max and Yaakoub to Rotec for their work experience placements. By providing these opportunities, along with welcoming a new cohort of engineering apprentices in September, we hope to be able to foster a new pipeline of engineers for the future."