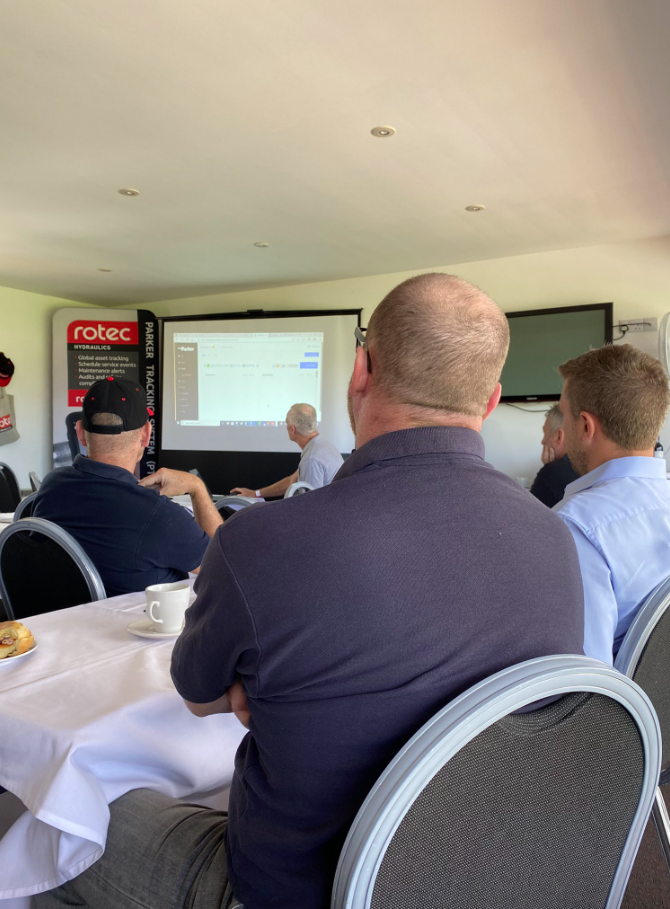 Rotec Hydraulics Ltd hosted their first ever Technology Discovery Day in August, with a focus on cutting-edge remote monitoring technology.
Guests were invited to the home of Somerset County Cricket, and after a opportunity for networking listened to a short presentation from Phil Ingate on the benefits of the Parker Tracking System (PTS). Proven to significantly reduce equipment downtime, PTS is a tagging and tracking solution to store, access and monitor critical asset information.
Following this, the focus of the Technology Discovery Day turned to Rotec's remote monitoring offer. Guests listened to a presentation from Parker's IoT expert, Tim Harris, ending with a demonstration using an intelligent demo kit linked to a mobile and laptop.
The ability to remotely and reliably monitor assets, collect data and receive service alerts is becoming increasingly desirable for clients from all sector industries. Rotec is proud to have been the first in the UK to offer Parker Internet of Things (IoT) Technology.
Parker IoT is the latest monitoring cloud-based solution specifically designed to provide sophisticated data, monitoring and performance control capabilities.
IoT makes it easy for businesses to collect and analyse data to identify usage trends and system maintenance concerns with unparalleled intellectual design and operational insight. Smart sensors and telematics help manage assets and prevent failures by optimising performance across multiple sites. By investing in IoT, you can reduce asset downtime, eliminate unnecessary spend, ensure compliance and safety as well as gain critical performance visibility. 
Continuous remote monitoring allows you to track key parameters and gauge the health of your assets. Parker IoT technology delivers an integrated, automated monitoring solution that uses the internet to enable you to monitor your assets from anywhere remotely.
With IoT technology, users can:
Review data anywhere, anytime and make informed decisions
Improve safety
Gather data without interrupting production
Schedule service events
Receive alert notifications
Optimise machine performance and service life
Maintain production quality
Data, provided by Parker, has shown IoT to increase productivity by up to 20%, reduce fuel consumption and recordable accidents by up to 20% and reduce diagnostic time by up to 70%.
For more information, please visit our remote monitoring technology page.