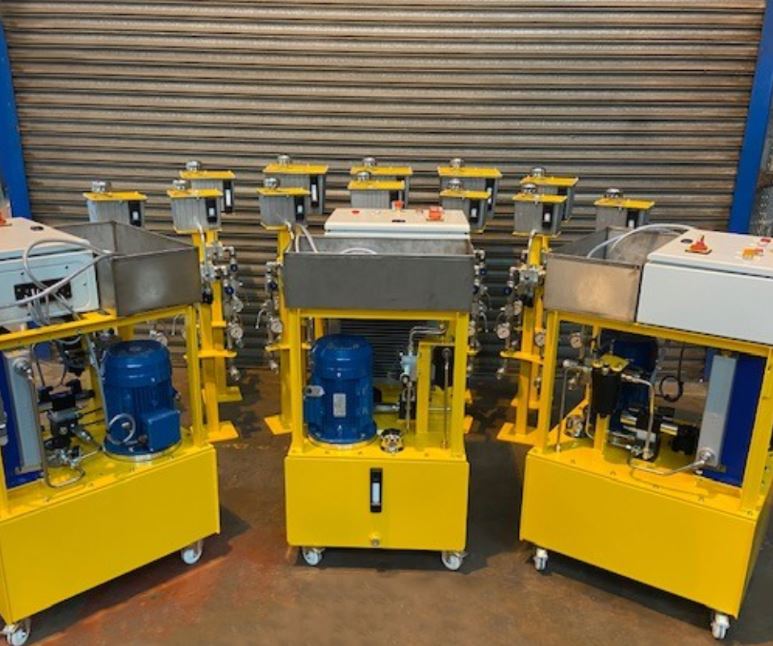 Recently designed and manufactured, engineers at Rotec Hydraulics Ltd have completed a bespoke project for a market-leading manufacturer.
The British-based company specialise in the manufacture of electronic valve actuators for large fluid flow applications, for example within the oil and gas, water and power industries. The actuators produced are a considerable size and as such, part of the development process includes dynamic load testing. The actuators connect to a test cylinder via a screw thread; as the actuators move the screw thread up and down, this in turn pushes and pulls a hydraulic cylinder.
 Full of hydraulic fluid, the operators were manually operating needle valves to restrict the flow of the hydraulic fluid within the cylinders in order to vary the amount of load on the actuator. Thus, Rotec design engineers developed two key upgrades to this current setup which were:
Electrify the load control valves so they can be operated by a computer.
Create a power pack which can induce a given pressure inside the test cylinder bores.
 The newly custom-designed system reuses the current cylinders that vary in size from 63mm in diameter to 203mm. To accommodate for this, different sized stands with varying tank sizes have been manufactured to accommodate the extra capacity whilst the control components remain the same. The stands consist of:
A custom powder coated steel frame.
An aluminium reservoir.
Dual electronic proportional pressure relief valves.
Dual manual needle valves.
Dual ball valves.
Quick connect ports for the power pack to connect to.
Output ports which connect to the test cylinder.
In addition to this, Rotec developed and built three identical standalone hydraulic power unit (HPU) systems which can create steady state pressures inside the test cylinders bores to eradicate erroneous pressure lag errors. Features include:
Powder coated mild steel tank construction.

3 phase motor coupled to a gear pump.
Air blast oil cooler.
Direction control valve.
Dual proportional relief valve.
Electronic control box.
Stainless steel tool tray.
Whole unit is mounted on castors for easy manoeuvrability.
For more information on Rotec's capabilities, including project case studies, visit www.rotec.net.