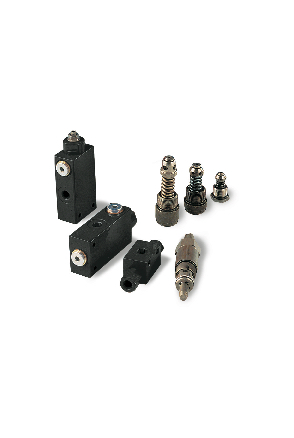 Filters
Low Pressure Hydraulic Filters
For tank top mounting installation the ETF series applies a reinforced co-polymer head equipped with two return ports and quick release cover. This filter represents an economic solution for hydraulic systems with nominal flows up to 140 l/pm.
Medium Pressure Hydraulic Filters
The Parker "CN" series filters has a common factor, the need for an economical, medium pressure range filter with excellent fatigue pressure ratings. Typical applications include:
Compressor lube oil
Off-line filter loops
Machine tools (automotive standard)
Hydrostatic drive charge pumps
Mobile equipment
Pilot lines for servo control
Oil patch drilling equipment
Injection moulding
High Pressure Hydraulic Filters
Parker Filtration engineered the 18/28/38P series of high pressure filters to satisfy demanding applications in the mobile and industrial markets throughout the world. With metric mounting and optional ISO 6149 ports, this new series is truly a global design. Standard filters come complete with industry proven spool type bypass valve. For more critical applications such as Servo or proportional controls, a no bypass high strength element combination ensures maximum protection.
Portable Hydraulic Filtration Systems
The Guardian portable hydraulic filtration system has two main functions, to ensure that new "dirty" fluid often contaminated during handling, is delivered to the system at a specific cleanliness and to permit periodic clean up of existing fluid to original condition.
Parfit Replacement Elements
To search for filter elements by other manufacturer's part numbers click here.
Rotec offer quality design, build, installation and maintenance of hydraulic, pneumatic and electronic components and systems in the aerospace, agriculture, industrial, marine, transport and utilities sectors throughout the UK and internationally.Head office: +44 (0)1823 348900