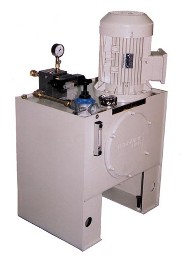 Systems
Modular Power Units
By using prefabricated components, modular power units can be produced at a low price and in a short time.
Various options allow a flexible adoption to the requirements of the particular application. Modular power units are particularly suitable as the basis for building up complex hydraulic control systems. A stackable basic block gives the user the possibility of extending the power unit with additional control elements for the specific use. The products listed below allow a short-term unit delivery.
Tank
Electric motor
Pump
Bell housing
Return filter
Contamination gauge
Level switch
Valve stack
Accumulator
These units are particularly designed for stationary use, working with one pump and requiring volume flow of up to 38 l/pm and pressure of up to 315 bar.
Press Controls
Hydraulic equipment by Parker Hannifin is available in the rated sizes 6 to 50 for installation in hydraulic presses according to the safety regulations EN 693. The equipment consists of standardised modular blocks which can be selected according to the required press functions and assembled to form a complete press control.
These modular blocks are quipped with valves from the standard valve programme, thus guaranteeing long term spare parts supply.
The clearly organised design gives simple access to all units. The connections of the press blocks are sensibly arranged for optimum connection between pump and press block and press block and press cylinder. The connection and valve designations are marked on the control block unit.
Rotec offer quality design, build, installation and maintenance of hydraulic, pneumatic, electrical mechanical and electronic components and systems across all industry sectors throughout the UK and internationally.
Head office: +44 (0)1823 348900
Email: sales@rotec.net