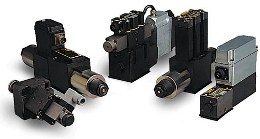 Proportional Directional Control Valves
Direct Operated Proportional DC Valve Series D1FT
The D1FT directional control valve of the nominal size NG6 (CETOP 3) is a proportional valve providing variable flow rates.
This valve is used with integrated control electronics. Typical applications are; soft switching via adjustable ramps for the reduction of hydraulic and mechanical shocks, electrically adjustable flow rates/speeds for automating machine functions.
Pilot Operated Proportional DC Valve
The D*1FW or D*1FT pilot-operated DC valves are available in NG 10 (CETOP5), NG16 (CETOP7 and NG25 (CETOP8).
These valves (*1FW) are controlled electrically with external power amplifiers or used as valves with integrated electronics (D*1FT).
Typical applications include reproducible control actuator speed in rapid/slow speed profiling and smooth acceleration and deceleration performance.
Rotec offer quality design, build, installation and maintenance of hydraulic, pneumatic and electronic components and systems in the aerospace, agriculture, industrial, marine, transport and utilities sectors throughout the UK and internationally.Head office: +44 (0)1823 348900