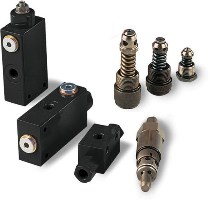 Pressure Valves
Series EVSA and VSA are direct controlled, dampened poppet valves with adjustable spring loading. Three pressure stages with selectable maximum adjustment pressures of 64, 160 and 315 bar are available. The integrated damping spool prevents pressure fluctuations in the transition region. The pressure is set using an adjusting screw, which is locked with a clamping screw. The setting can be secured by means of a cylinder lock if required.
Direct Operated Pressure Valves
Series VS and VB are direct operated pressure valves with manual adjustment, they are spool type valves, manifold mounting. They have 5 pressure stages at NG6, 3 pressure stages at NG10 and 2 adjustment modes. The VS type pressure relief valve is a direct grated spool valve for sub-plate mounting with internal drain to Port T. The connection function is according to DIN 24340-C6-2, whereas the sequence valve VB is a direct operated spool valve with external drain. The sequence valve also allows the application as a pressure relief valve.
Pilot Operated Pressure Relief Valves
The pressure relief valve Series RS* consists of a manual adjusted pilot stage with directional valve for electrically controlled unloading and a cartridge main part, its features are Pilot operated with manual adjustment, 2 interfaces (sub-plate and slip-in, mounting hole), 4 pressure stages, 2 switching types, 2 adjustment modes (screw with lock nut or DIN lock) and remote control via port X.
Proportional Pressure Relief Valves
The pressure relief valve series RE*T have a proportional solenoid operated pilot stage with integral electronics and a cartridge main stage. They have on-board electronics, min/max option, ramp adjustment, very low pressure adjustment of pmin, 4 pressure stages and 2 interfaces.
Direct Operated Pressure Reducing Valves
The pressure reducing valve VM is a direct controlled spring loaded 3 way pressure reducing valve that is open in the neutral position. The valve closes the connection fro P to A (NG06) or B (BG10) when the pre-set pressure is exceeded.
Rotec offer quality design, build, installation and maintenance of hydraulic, pneumatic, electrical mechanical and electronic components and systems across all industry sectors throughout the UK and internationally.
Head office: +44 (0)1823 348900
Email: sales@rotec.net