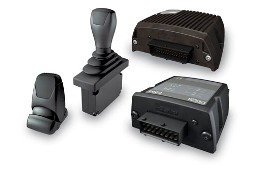 Electronics
Power Amplifiers for Pumps
Electronic module for control of a continuous volume flow adjustment with position transducer in axial piston pumps of the PV series.
Flow current can be given by an externally supplied command signal and internal limitation and ramp potentiometers. In this case, the command signals can be generated for example by a PLC.
Features include:
Flow current adjustment in closed loop control by feedback of the pivoting angle setting.
Differential input stages for voltage or current signals.
Ramp generators.
Min/max adjustment for maintaining the working range to the command value range.
Adjustable control gain.
Diagnosis LED for indicating under voltage or position transducer cable breakage.
Module housing for support rail as per EN 500222.
Disconnectable terminals.
Power Amplifiers for Valves
Electronic module for the control of pilot operated proportional directional valves with transducer. The flow direction at the valve spool is set by the sign of the set-value voltage. The spool stroke and its rate of change are set by means of potentiometers. The movement profile of the valve spool is controlled by a closed loop feedback circuit in the module.
Rotec offer quality design, build, installation and maintenance of hydraulic, pneumatic, electrical mechanical and electronic components and systems across all industry sectors throughout the UK and internationally.
Head office: +44 (0)1823 348900
Email: sales@rotec.net