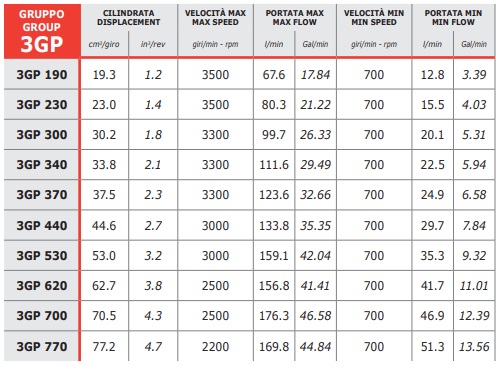 3GP Gear Pumps
Available displacements 1,2 – 4,7 cc/rev. Flange and cover in cast iron. Suited to various applications in the field of mobile and industrial power-to-weight and power/size ratios.
From £130                  RRP: £216
Call us on
01823 348 900
or email
sales@rotec.net
Part of 'Start', a new product range of pumps and motors, Galtech gear pumps are suited for many applications both on industrial and mobile sectors. These external gear pumps consist of three groups: 1SP, 2SP (12 teeth) and 3GP (10 teeth) with 32 displacements from 0.89 to 77 cc/rev, and can reach high pressure up to 3000 bar and maximum speeds of rotation of 4000 rpm. They can be easily assembled with complete interchangability with standard flanges or with special ones and can be used with a wide variety of shafts. All pumps are designed for easy combinations into multiple pumps.