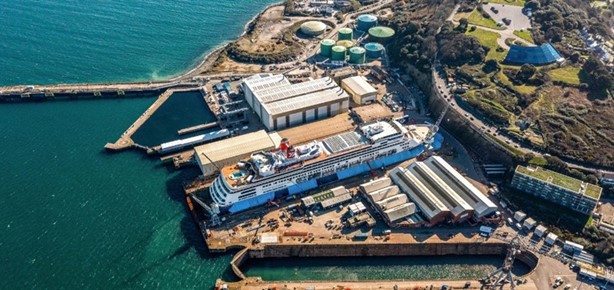 Supported by Rotec's electrical mechanical services team, a multi-million pound refurbishment of MS Bolette has been unveiled to CLIA and Government officials.
The Bolette entered dry dock for a 13-day refurbishment, including maintenance to the ship's Azipods and bow thrusters as well a new application of anti-fouling paint. Rotec Hydraulics Ltd, based across the South West of the UK, were responsible for the overhaul of Bolette's eight thruster fans.
After the fans were electronically and mechanically disconnected, the vessel's thruster fans were transported by Rotec for a full inspection. Following the inspection of all plate detail and insulation valves, the fans underwent dynamic balancing. The units were then transported back to the shipyard and reconnected, with a full works report supplied to the client.
The turnaround for the project was a mere 8 days from the ship arriving in the UK shipyard to Bolette setting sail again on 7th March. To ensure the tight deadline was met, Rotec engineers went above and beyond, working a 24/7 split shift pattern. Unplanned and additional emergent works which occurred, were quickly responded to by the Rotec team. Following the works, Mark Terrell, Electrical & Maintenance Manager at A&P Falmouth commented on Rotec's service delivery:
"I would like to take the opportunity to thank you for the support. The Rotec response was great and by Monday 16:00 (less than 24 hours later) the ship had passed off all 8 fans as complete and ready to return to service. Special mention must go to [your engineers] for sticking with the job through Sunday night and well into Monday!"
MS Bolette has now sailed to Newcastle to complete its spring/summer season operating in Europe. Owned and operated by Fred. Olsen Cruise Lines, Bolette was formerly named Amsterdam and was the last ship of the four Rotterdam class (R class) cruise vessels.
For more information on Rotec's Electrical Mechanical Services visit www.rotec.net.
Image: Aerial view of A&P Falmouth, where refurbishment of MS Bolette took place. Image source: https://www.cruiseandferry.net/