Name: Claire Brown
Qualifications: Fully qualified electrician (originally trained via a modern apprenticeship scheme in an industrial environment). Level 2 Hydraulics, working towards Level 3 atmo
Years of working experience:  12 years overall, 7 years with Rotec
Job Title: 5 second silence (what IS my job title?! laughter) I guess the official job title is Electrical engineer.
But you do more than that?
Yes, it's quite a dynamic group of engineers, so we all need to cover more than our job description. Rotec is good at not 'pigeonholing' people and giving us the outlet to apply our skill sets in different ways.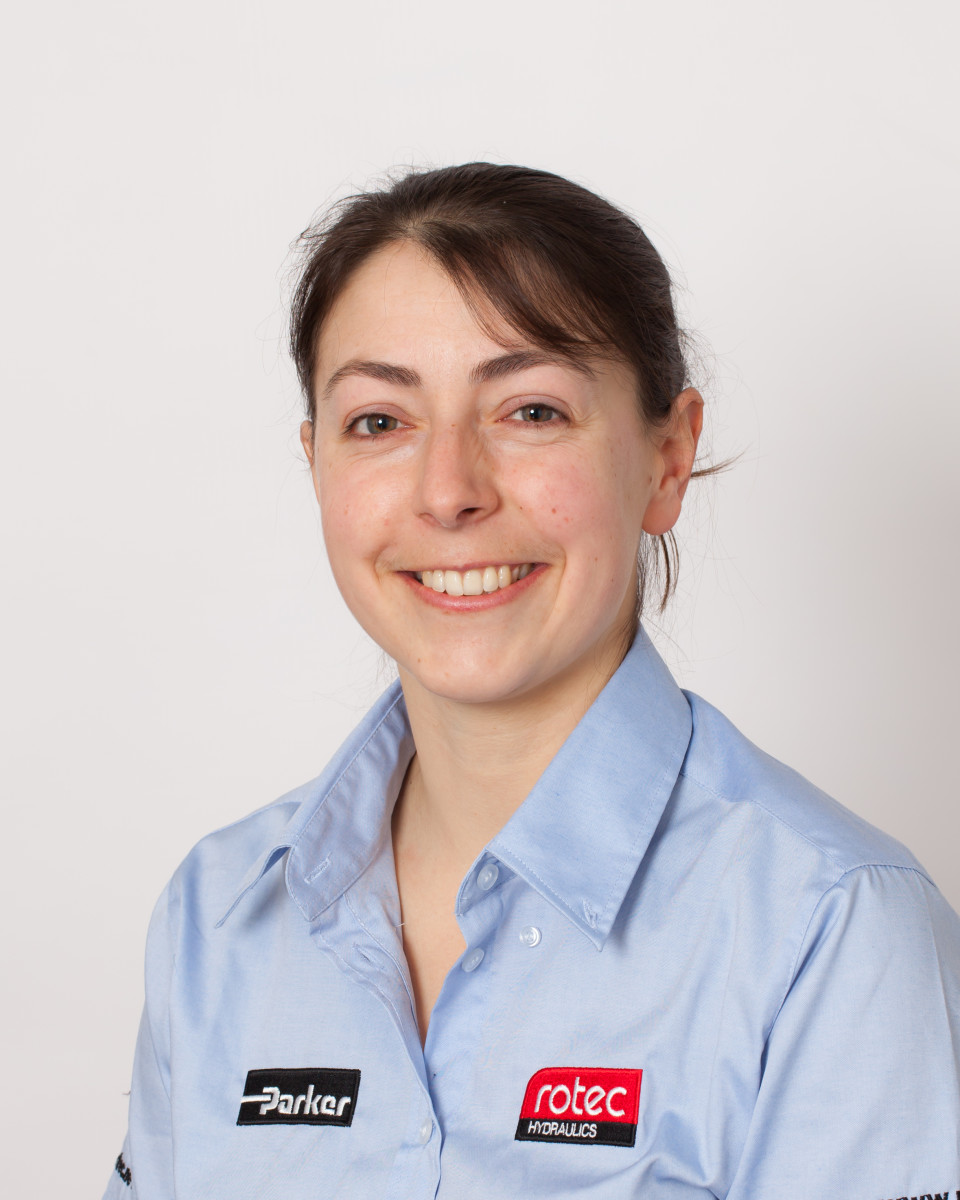 ---
What does your typical day look like?
Typical day would be a bit of electrical design, possibly a bit of customer technical phone assistance, a bit of hands on in the workshop, prototype system testing, if there is a customer with a breakdown then I could be popping out on site to assist  and generally giving a hand if we have some industrial projects on. We also have an apprentice – Dan, I am a main point of contact for him, so I also answer his questions and assist him when necessary.
How did you arrive at engineering?
I grew up on a farm, was expected to help out since young age and enjoyed the hands on work. I did 3 of my A Levels in science, and worked part time at the local vets which I enjoyed, so I actually considered becoming a veterinarian, but decided I preferred working with a machinery than something with a pulse. I started looking at some of the other options and fancied an off road vehicle design course at Shropshire university. I even went on a weekend taster which was brilliant, very hands on, getting involved in new machinery development process, but then we spent a day with the actual first year students who showed us their dossier portfolios they had created in their first year (which were about 4 inch thick), and I thought I don't really want to do that!(laughing) That's what pointed me towards the option of an apprenticeship – an attractive combination of learning and working. I went to the college and they told me about a company who was looking for an electrical apprentice, so I went straight in for an interview, in my little jumper and flip flops. The four applicants (including myself) then went on to do a one week trial upon which I was offered the position.
Were any of the other applicants women?
No. I was the only girl on the course that year, but there had been a female electrician two years before (laughing) but I don't know of any others while I was still at college.
Do you think a lot of girls get intimidated by the male dominated industry?
(Claire seems to choose her words carefully) I don't really think it's intimidation.  I think that the environment in which most girls are brought up and the way the education system is structured channels girls down a certain route, I don't think the actual opportunities are opened up to them in the way that it is for men. I think a lot of it has to do with the way the different genders are viewed. Like with me, growing up on a farm I was expected to muck in, including the physical stuff, lifting heavy loads and you find that going to school you are probably stronger than some of the boys (laughing), especially the ones who spend their free time playing computer games. But most girls are brought up in a typical 'girly way' which leads them into an office job, or other jobs that generally have higher female representation.
So you think other people's perception is leading girls away from jobs they could be interested in but are not traditionally pursued by a lot of women?
Yeah, like I don't think I would have gotten the apprenticeship if it wasn't for the week's placement. The workshop manager especially showed concerns about my physical limitations, but the younger guys were more open minded and I am stronger than I look (Claire is quite petite)! One day I walked in with this motor, and I just carried it through the workshop and the guys just kind of did a double take, gaping at me like 'have you just carried that through the whole building' (laughing) And I was like 'yeah'… and I got the job!
People assume a lot don't they…
Absolutely! When I go to a site, people don't always tend to realise that I am the electrician they have been waiting for all morning! (laughing) I don't think people are being mean or anything, but women in engineering are not common. Once they realise I am there to commission the power unit, their reactions are definitely positive.
What's the most recent project you've worked on?
I went to Colombia recently, to repair an air reduction system on a seismic ship which is designed to map the sea bed. That was a great project, it was interesting to get a glimpse of the country, but also to have a chance to observe the dynamic on the ship. The crew was made up off people from about 6 different nationalities: Norwegians, French, North American, Lithuanian, British and Filipinos. They work hard, they work 7 days a week, in 12 hour shifts for 5 weeks, and then they have five weeks off. So you'd think it would get quite intense, but they work so well together! Making fun of the stereotypes linked with each nationality. Actually I was the only woman on the ship, there are usually more women working on these ships, but with the Zika virus threat in the South Americas the company decided to transfer their female staff to regions with less risk.
Would you advise girls to go into engineering?
Yes, definitely! Unfortunately I think it is difficult for any young person to make the life changing decision of a career choice at school leaving age. It is even more difficult for girls to choose to take a career path that is uncommon or stereotypically a male job. I have found the engineering industry to be a great choice as I find the work stimulating and varied. It is an industry that is forever evolving as technology changes which keeps things interesting.
Did any of your friends also decide to take an uncommon career path?
One of my friends got a university degree in automotive/aerospace industries and she really wanted to get into the Formula 1, but found getting into the industry wasn't going to be easy. She is so enthusiastic, and so knowledgeable, but when she went up against men with the same degree, they seemed to be given a preference. It took her quite a few years to find a step into the industry and it did not at that point match her degree. I think that sometimes in engineering female staff may have to initially prove their competency to earn the same respect that is held for their male colleagues.
Do you think there is any difference in terms of the qualities male/female engineers bring to the company?
I don't really think so, not when it comes to skill sets, capability or competence. If there are people willing to give you the chance to learn skills women can be just as good as men. Everyone has particular assets that are distinct to them individually. I may not have the same strength that our Big Dave has to loosen a steadfast bolt. But when the bolt gets dropped in the 3-inch gap behind a power unit that's where the person with a smaller physique comes into play.
How do you find working predominantly with men?
Really good! Generally the guys are great to work with. The vocabulary can be slightly more elaborate especially in the workshop or the shop floor environments and even more if something is going wrong! (laughing) If I am working somewhere new I think the guys try to tone it down a little until they get used to me and realise I won't be offended. I think the dynamic shifts slightly with a woman in the room and I think it's a change for the better.
It would appear that as much as our society has made progress towards equality, we are still some distance away from truly equal opportunities. Girls should be encouraged from a young age to choose a path they have aptitude for, but that is not enough. Women engineers are not asking for new opportunities to be created for them, they are asking companies to make the shift towards welcoming them, and encouraging them to apply for the positions that are out there, giving them the opportunity to showcase their unique skills, much to the companies own benefit. Claire says: The more women can be encouraged into the industry the less likely these preconceptions will be made between male/female job roles and hobbies. Also more awareness of what jobs are actually out there in the engineering industry would be useful for any young person in helping them make their career choice.
Author: Sarka Humpolcova
Date: 07/10/2016