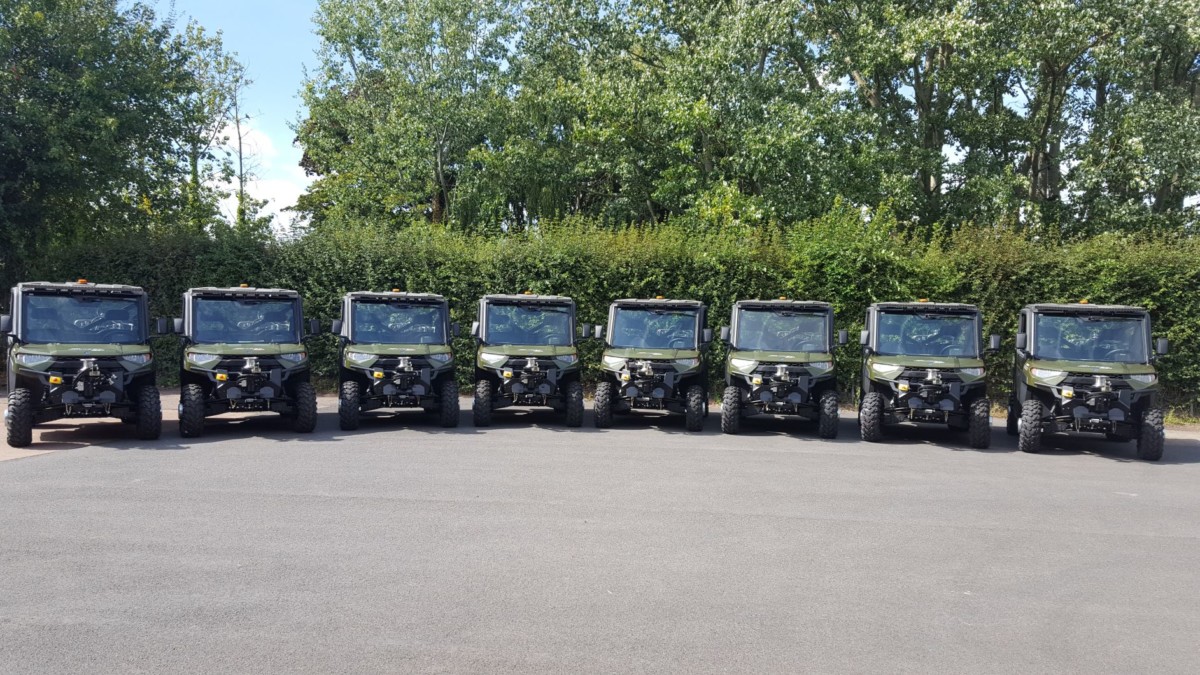 Ever considered how Over Head Line maintenance teams get their tools 'up' on to pylons to enable them to carry out their work?  One answer is with Rotec Hydraulics' help.
At Rotec Hydraulics the Team, work on many different projects.  Much of the work undertaken requires the integration of knowledge and skills from across the Rotec team, to deliver all of the elements that make up a client brief.
One such brief was to enable these incredibly gutsy all-terrain Polaris 1000 HD Rangers to help Over Head Line maintenance teams access their tools, whilst working off the beaten track and when needed at height. 
 For one utility company the skilled Rotec team designed, built and installed bespoke hydraulic and electric Capstan Winching Systems to a fleet of all-terrain vehicles, to enable utility staff to 'winch up' the items they need, when working at height.
The all-terrain Polaris 1000 HD Rangers are used daily to support overhead line operations in the utilities sector.  The low ground compact build of the Polaris is perfect to access difficult to reach areas when repairing or undertaking planned activity in the utility sector.  Their confined flatbed behind the cab, is ideal to hold and secure Rotec's bespoke Hydraulic Power Pack, powering the Capstan Winch.  Electricity pylons are by the nature of their role, often positioned off the beaten track and are accessed across all sorts of terrain.
The hydraulic and electric winching system ensures when these mighty little vehicles and crew reach challenging locations, they have everything needed to hoist tools up on to a pylon, to carry out overhead cable maintenance and repair work.
When in the middle of nowhere there are times when the utility company over headline maintenance staff will not be beside the winch system to physically push buttons, to engage the winding mechanism.  Therefore, when designing the power sources to operate the Capstan Winch, Rotec ensured the Hydraulic Power Packs could be petrol driven, alongside a battery to enable electric start and a remote electric start option for when personnel are perhaps in position up a pylon. 
An integrated cooling system and roll cage over the whole Capstan winching system unit adds overall protection to the investment as it is transported to site and used.  The complete winching system unit can be fully removed from the vehicle if and when required.
 As a further safety measure, Rotec engineers designed and manufactured a specially designed manually lowered ground anchor, to limit the ability of the vehicle to slide when the winch is engaged in more extreme winching situations.  The power Capstan winching system is designed to pull up to 350kg.
As part of the design and testing process Rotec also undertook the Finite Element Analysis (FEA) in support of the Lifting Operations & Lifting Equipment Regulations (LOLER).  Rotec ensures we provide the additional evidence within our design to ensure the vehicle conversion is strong, reliable and suited to the challenging environments in which it is designed to operate. 
The Rotec team is thrilled they enable others to reliably undertake time critical repairs and planned activity, all year round, in any conditions, at any height, to keep key utility services across the country operating. 
Are you looking for an alternative option to get something from A to B in a controlled way?  Rotec Hydraulics experienced team of Hydraulic, Pneumatic, Mechanical and Electrical engineers can help.  Please contact any of our locations across the south west for more information or assistance.
Date: 24/02/2020  Revised   Author: Carly Warren