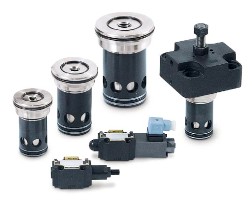 2-Way Slip-In Valves
Valves from the series C10 are 2/2 way seated valves with cage, poppet, spacer ring, spring and cover with switch. The position is controlled by an inductive switch which monitors the valve seat in the closed position. The valve poppet is operated hydraulically. The operation of the inductive switch takes place mechanically due to the movement of the valve poppet. The valve poppet also has a cylindrical safety cover for the seat.
Rotec offer quality design, build, installation and maintenance of hydraulic, pneumatic and electronic components and systems in the aerospace, agriculture, industrial, marine, transport and utilities sectors throughout the UK and internationally.
Head office: +44 (0)1823 348900