Following our Engineer's interpretation of our client's requirements, and the completion of detailed drawings for the scheme, our materials listing is completed and parts acquired.
After reservoir, framework and supporting bracketry has been fabricated and painted to specification, electric motor(s)/pump(s) and both manual and electronic control mechanisms are mounted on the structure. Rotec are fortunate to have direct access to Parker components as well as vane pumps from Berarma s.r.l and gear pumps and control valves from Galtech. Extensive inventory of all product is held in our stores. Parker's Leak Free hose terminations and pipework connectors are utilised throughout. Upon completion of assembly the whole unit is subjected to rigorous testing procedures specified by the design engineer. After satisfactory testing the completed unit is delivered to the client.
Rotec are currently undertaking a number of internally designed fabrications for blue chip organisations which, coupled with cylinders being manufactured by sister company Ram Reman, are forming the foundation of exciting new projects.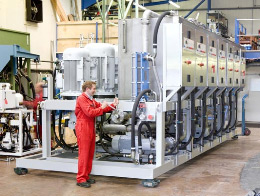 Find out how we could help you. Call us on 01823 348900
Rotec offer quality design, build, installation and maintenance of hydraulic, pneumatic and electronic components and systems in the aerospace, agriculture, industrial, marine, transport and utilities sectors throughout the UK and internationally.Head office: +44 (0)1823 348900