Parker Legris CleanFit: Connection Solutions for Life Sciences & Clean Rooms
Rotec Hydraulics are able to supply a wide range of Legris fittings and tube specifically designed for oxygen and respiratory applications such as the manufacture of ventilators. As a Premier Parker Hannifin Distributor, who are involved in the medical/science supply chain, Rotec has access to many different ranges of Parker Legris clean and compact push-in fittings, tubing, function fittings, valves and complementary products specific to Life Sciences and Clean Room applications.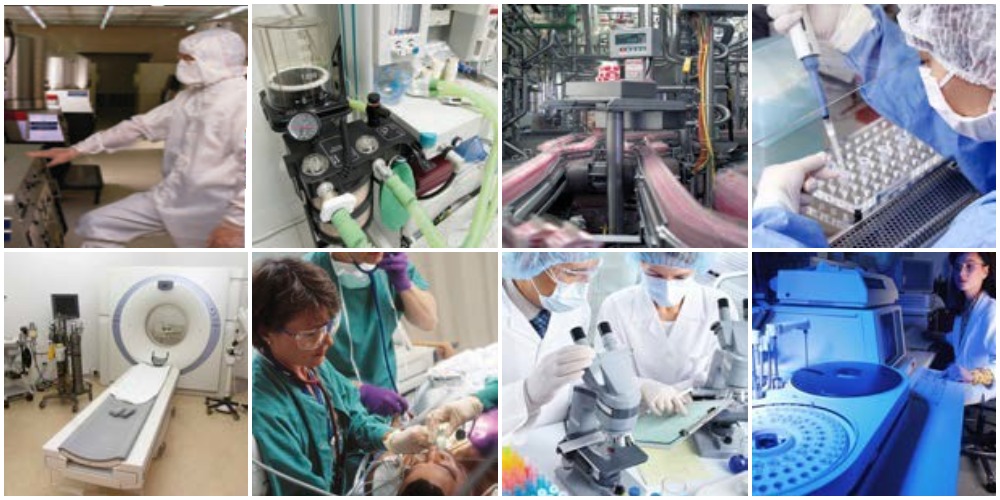 With more than 40 years of experience in the manufacturing and marketing of high quality fittings, Parker Legris today proposes a wide range of proven solutions for medical and clean room environments: bio-medical equipment, breathing systems, respiratory equipment, diagnosis devices, pharmaceutical process and more.
Applications
Oxygen Therapy/Oxygen Gas/Transfilling/Concentrators/ Oxygen Conserving Devices/Sleep Apnea/ICU/Aerosol
Anti-Dust Systems/O2 Delivery Systems
Perioperative Temperature Mgmt./Pre-OP/OR/Post-OP/
Therapeutic/Compression Therapy/Alternating Support Surfaces
Dialysis/Medical Autoclaves/Dental/Hospital Infection Control/ Suction Therapy/Wound Therapy
Surgical Power Tools/Imaging Equipment/Home Diagnostic Equipment/Advanced Prosthetics
Gas Control/AA Spectrometry/Thermal Conductivity Detector
Air & Nitrogen Supply/Buffer Preparation/Bioreactor Production/ Chromatography/Diafiltration & Concentration/Dosing/
Filling & Packing
Air/Vacuum Conditioning Unit/Air Bearing Controller/ Semi-Conductor/Neonatal Ventilator/Filling & Packing
Product Ranges for Life Sciences & Clean Rooms

PU Ether Tubing, Extruded in ISO 7 Clean Room
This range of PU tubing, which meets rigorous technical requirements and is also bio-compatible, sterilisable and certified ISO 15001, has been specifically designed for use in medical devices or clean room applications.
Customer Benefits
Safe & Long- Lasting Use of Equipment
Biocompatible and very stable
Sterilisable using standard chemical and radiation procedures Certified for medical applications and clean rooms
High cleanliness level
Microbial resistance
Applications
Respiratory Devices Pharmaceutical Process
Clean Rooms
Laboratory
Gas Sampling
O2 Circuits
Medical Fluid Conveyance
Maximum Reliability & Efficiency of Use
Excellent mechanical properties
Exceptional resistance to twisting and compression Wide chemical compatibility
Very good flexibility ensuring ease of use and space saving Transparency to facilitate visibility of fluids
Optimum life cycle management
Medical-Grade PFA Tubing
Parker Legris PFA (perfluoroalkoxy) tubing offers 10 times greater durability than other fluoropolymer tubings (PTFE, FEP and PVDF) under severe chemical and mechanical conditions. This ultra-pure and clean tubing range is USP VI certified and offers perfect compatibility with all applications, even in extreme environments.
Customer Benefits
Great versatility and outstanding lifespan
A flexible alternative to stainless steel tubing
Broad range of working temperatures, from cryogenic to extreme heat
Non-stick properties allowing conveyance of many fluids & gases
Fluoropolymer with the lowest permeability
Tube marking on request
Exceptional chemical inertia
Outstanding resistance to ageing
Non-flammable
UV-transparent Silicone-free
Applications
Fuel Cells
Electrical/Electronics
Aircraft
Pharmaceutical
Medical
Chemical
Clean Rooms
Rotec offer quality design, build, installation and maintenance of hydraulic, pneumatic and electronic components and systems in the aerospace, agriculture, industrial, marine, transport and utilities sectors throughout the UK and internationally.Head office: +44 (0)1823 348900