Barring valve and installation
Rotec Hydraulics Ltd was approached by EDF Energy at Hinkley Point B with an initial enquiry into supplying a new barring directional control valve for the Gas Turbine power generator.
The Barring directional control valve and its application permits EDF Energy maintenance departments to continue with vital inspections and examinations of the Gas turbine installation via the manual control of the Barring directional valve during scheduled maintenance shutdowns.
Rotec Hydraulics attended site at EDF Energy, Hinkley Point B to survey and assess for the supply of a new barring directional control valve for the Gas Turbine installation. With the Gas Turbine being overhauled this provided Rotec Hydraulics with the perfect opportunity to inspect and discuss the full operating parameters required for the replacement barring directional control valve. During our site survey discussions were held indicating the barring valve location plus installation of new supply return and service fluid pipework.
Research into the existing barring control valve confirmed it was obsolete and the original equipment manufacturer no longer existed. Rotec's search began for a new up to date replacement barring control valve from another reputable supplier. After much research Rotec Hydraulics were able to confirm a replacement barring control valve to the specific application required for the Gas Turbine installation.
All current information was collated and communications were held with the project manager at EDF Energy. Our discussions confirmed the exact configuration of the existing barring control valve and we able to verify an equivalent replacement barring valve to the required function including the operating pressure and fluid flow through the specified replacement barring control valve.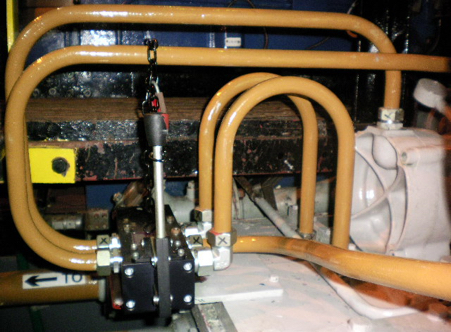 After dialogue with EDF Energy the replacement barring control valve and pipework installation was confirmed and ordered.
An on-site installation was scheduled integrating the replacement barring valve along with new adaptors and system pipework into the existing Gas Turbine barring valve system.
Our engineers installed the new barring control valve and manufactured new pipework into the existing system to the customer's specification.
The new barring directional control valve and pipework was function and pressure tested and signed off as complete by EDF Energy.
We have since completed the supply and installation of a second replacement Gas Turbine barring valve control system to EDF Energy with hopefully more to follow in the future.
Rotec offer quality design, build, installation and maintenance of hydraulic, pneumatic and electronic components and systems in the aerospace, agriculture, industrial, marine, transport and utilities sectors throughout the UK and internationally.Head office: +44 (0)1823 348900