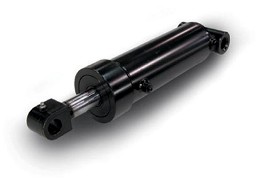 Mobile Actuators
Standard Cylinders
Standard cylinders are a compact cylinder for tough mobile operation and long service life, they are easy to service using standard tool. There is a choice of material, mounting provision, seals and surface treatments. Working Pressure 160 bar in continuous operation, 250 bar intermittent. Test Pressure 300 bar.
HTR Rotary Actuators
The HTR series of heavy duty hydraulic rack and pinion rotary actuators converts fluid power into rotary motion. They are suitable for a wide variety of applications, including material handling and valve actuation, in industries as diverse as machine tools, primary metals, mining and oil field equipment. HTR series rotary actuators employ conventional tie rod cylinder construction and are rated for use a working pressures up to 210 bar. The pinion and output shaft are supported in large tapered roller bearings, allowing the unit to support high external and thrust loads. All HTR series rotary actuators feature high strength, ductile iron housing, for ease of mounting and good shock resistance.
Mobile Telescopic Cylinders
The great advantage of telescopic cylinders over conventional rod-type cylinders is their ability to provide exceptionally long stroke from a compact initial package. The collapsed length of typical telescopic cylinders varies between 20% to 40% of their extended length, thus when mounting space is limited and the application needs a long stroke, a telescopic cylinder is a natural solution. Please telephone our engineers for details
Rotec offer quality design, build, installation and maintenance of hydraulic, pneumatic and electronic components and systems in the aerospace, agriculture, industrial, marine, transport and utilities sectors throughout the UK and internationally.
Head office: +44 (0)1823 348900